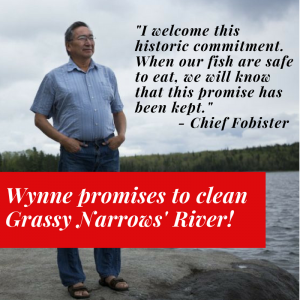 Monday, February 13, 2017
Chief Simon Fobister received momentous news when he met Premier Kathleen Wynne on Friday.
Premier Wynne promised to him that Ontario would clean up the English-Wabigoon River system and the Dryden Mill and that this cleanup would be led by Grassy Narrows First Nation!
This is a moment for cautious celebration, but the work is not done. No schedule has been announced, and the remediation has not begun. Promises made before have been broken.