var _gaq = _gaq || []; _gaq.push(['_setAccount', 'UA-16531805-1']); _gaq.push(['_trackPageview']);
(function() { var ga = document.createElement('script'); ga.type = 'text/javascript'; ga.async = true; ga.src = ('https:' == document.location.protocol ? 'https://ssl' : 'http://www') + '.google-analytics.com/ga.js'; var s = document.getElementsByTagName('script')[0]; s.parentNode.insertBefore(ga, s); })();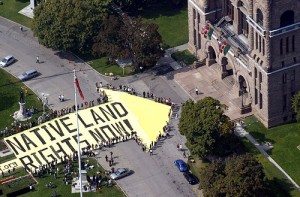 Watch Videos from the River Run March and Rally

New River Run March and Rally Photos
Today, 40 years after their river was poisoned by mercury from a paper mill upstream, the health impacts on Grassy Narrows people are worse than ever.
Read on for the shocking health study, the press release, fact sheet, and to take action.
Take action to support Grassy Narrows.
River Run Media – Selected media from the week of April 6, 2006.

April 7, RELEASE: Hundreds to march with Grassy Narrows;
Read the Media Advisory. Includes details on the press conference, speaking event, march and rally.
Download the Press Release. April 6, 2010. Includes demands and supporting statements.
Download the Chiefs of Ontario Release. April 6, 2010.
Download the shocking health study by Dr. Harada, available in English for the first time. Published in Japanese in 2005.
Download the fact sheet on mercury poisoning in Grassy Narrows

Attend the public speaking event , march and rally.
See the featured analysis on CBC The National. April 5, 2010.
Background Information

View CBC coverage from Dr. Harada's visit in 1975.
Mercury Rising: The Poisoning of Grassy Narrows. CBC archive.
Read an academic article with historical details about the mercury poisoning and the original negotiations. 1987.
Academic Article about congenital mercury poisoning linked to cerebral palsy in Graeat Lakes area. 2010.
Download Mercury Exposure: The World's Toxic Time Bomb. Prepared for the 22nd United Nations Environment Programme Governing Council Meeting