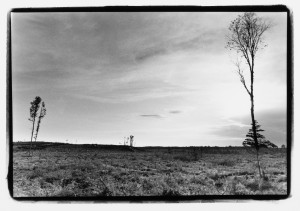 After nearly 10 years winding its way through legal process the Grassy Narrows Trappers' lawsuit is finally being heard in court. The litigation challenges Ontario's authority to issue logging licenses on Grassy Narrows Territory. Learn more.
Read the CP newswire article, Oct. 5 2009

Read the Wawatay Article
Read the Kenora daily Miner Article
Read the Wawatay follow up article. November 2009.

See the original full lawsuit text

Courts Order Ontario to Pay Grassy Narrows' Legal Costs

Read the legal decision ordering Ontario to pay Grassy Narrows' costs in advance.
Read the CP newswire article.Tuesday June 27, 2006.
The Legal Action

The Grassy Narrows trappers have been in the courts for close to a decade fighting to protect their lands and their rights under Treaty 3. Treaty 3, signed on October 3rd, 1873 by representatives of the Government of Canada and the ancestors of the Grassy Narrows community promises that the Indigenous people of the area "[s]hall have right to pursue their avocations of hunting and fishing throughout the tract."
The trappers' legal action "seeks a declaration that the MNR has no authority to approve any forest licences, forest management plans, work schedules or make or give any other approvals or authorizations for forest operation, within the Keewatin Lands so as to infringe, violate, impair, abrogate, or derogate from, the right to hunt and fish guaranteed to [Grassy Narrows] by Treaty 3."
The trial is expected to last approximately 75 days, and is an important test case for many communities with similar treaties whose lands are being clearcut, mined, and polluted against their will, for the benefit of multinational resource corporations.
In 2006 the Superior Court of Ontario ruled in favour of a Grassy Narrows court motion obliging the Government of Ontario to pay Grassy Narrows' legal costs for the litigation in advance of the trial. This decision is a first in Ontario and sets an important legal precedent for other Native communities struggling to gain legal recognition for their aboriginal and treaty rights to land and culture.
Grassy Narrows Background

Grassy Narrows (Asubpeeshoseewagong) is an Anishnabe community in northwestern Ontario. Mercury contamination of their river system in the 1960s by a paper mill upstream devastated their economy, plunging the community into extreme poverty from which it has never fully recovered. Many community members continue to rely on the forest for hunting, trapping, fishing and gathering of berries and plant medicines, as well as a site for ceremonies and cultural teachings.
Government and Industry officials failed to heed decades of Grassy Narrows' official complaints, environmental assessment requests, negotiations, and public protests against clearcut logging, giving rise to a peaceful grassroots blockade that has kept logging trucks off highway 671 for nearly 7 years – the longest such action in Canadian history.
On June 3 of 2008 David Paterson, CEO of AbitibiBowater, then the largest newsprint producer in the world, yielded to international pressure and informed then Ontario Minster of Natural Resources, Donna Cansfield, that the company would discontinue using wood from Grassy Narrows territory and relinquish its license to log in the area. AbitibiBowater's withdrawal has suspended logging on Grassy Narrows territory, and the Band Council has entered into talks with the Province, represented by former Supreme Court Justice Frank Iaccobucci, over the long-term management of Grassy Narrows territory.
Check out this CBC interview with Roberta Keesick, Grassy Narrows blockader, trapper, hunter, mother, and grandmother.

There are growing concerns, however, that the province may have already made up its mind to continue large-scale clear-cut logging in the territory, and in March of 2009 the Province unilaterally approved a plan that identifies 27 areas to be clearcut on Grassy Narrows territory, including 17 that will be more than 260 hectares in size.
Seattle based lumber giant Weyerhaeuser is pursuing trees logged on Grassy Narrows territory for it's Kenora Trus Joist mill to make Timberstrand products used in homebuilding throughout North America. On June 15 Calvert Investments deleted Weyerhaeuser from the Calvert Social Index of sustainable and responsible companies due to Weyerhaeuser's failure to meet the Index's standards for Indigenous Peoples' Rights.