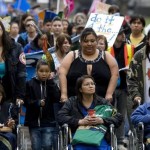 Join Grassy Narrows families and their supporters as they walk in Toronto for clean water and Indigenous rights this July 31.
For press releases and fact sheets click here.
See great pictures from River Run 2014
Read media reports about River Run 2014
Watch TV coverage of the River Run week
River Run 2014 – Water is Sacred
Walk with Grassy Narrows for clean water and Indigenous rights. (Toronto)
Stephen Lewis and Leanne Simpson speak with Grassy Narrows 
Tuesday July 29, 6:30 p.m.
Event details, and Purchase Tickets here. 
100 pay-what-you-can tickets will be available at the door on a first-come first-serve basis for low-income people (no questions asked).
River Run 2014
Thursday July 31, Noon.
Walk starts at Grange Park, Toronto.
Statement from Steve Fobister Sr. on ending his hunger strike. 
#FreeGrassy  #RiverRun
Selected mainstream media coverage: CBC, Toronto Star, CTV (with video), Global News (with Video), Canadian Press, and Radio Canada Internationale 
9 Ways to help amplify Grassy Narrows' voice!
1.  DONATE to help the Grassy Narrows Women's Drum Group travel to Toronto for the River Run.
2.  Please visit and like our FaceBook Page.
3.  Send around the email call-out. (cut and past into your email)
4.  Download and print the beautiful poster and flier.
5.  Share this image on facebook: http://on.fb.me/1yKrL0N
6.  Join the facebook group: www.facebook.com/groups/RiverRunToronto
7.  Take Action: http://freegrassy.net/mercury-action-alert/
8.  See Grassy Narrows' mercury demands.
CONTACT:  2014riverrun@gmail.com
Media Partners:
Now Toronto
Ryerson Sponsor:  CAW – Sam Gindin Chair in Social Justice and Democracy
Endorsed by:
Aboriginal Issues Working Group at the Church of the Redeemer
ActCity Ottawa
Amnesty International
Barrio Nuevo
Canadian Union of Public Employees – National
Centre for Women and Trans People – U of T
Centre for Women and Trans People – York
Council of Canadians
CUPE 3903 First Nations Solidarity Working Group
CUPE 4600 at Carleton University
Earthroots
EcoSanity
Educators for Peace and Justice
Greenpeace
Greater Toronto Area Council – Ontario Public Service Employees Union
Health for All
Idle No More
Justice for Migrant Workers
KAIROS
Mining Injustice Solidarity Network
Native Youth Sexual Health Network
No One Is Illegal – Toronto
Ontario Coalition Against Poverty (OCAP)
Ontario Federation of Labour
Ontario Public Interest Research Group – Toronto (OPIRG)
Ontario Secondary School Teachers Foundation (OSSTF)
OSSTF – District 12
Public Service Alliance of Canada
Rhythms of Resistance
Toronto Immigration Legal Committee
Toronto New Socialist Group
Toronto & York Region Labour Council
Women's Coordination Committee for a Free Wallmapu