Thoughts on children of Grassy Narrows to commemorate the National Child Day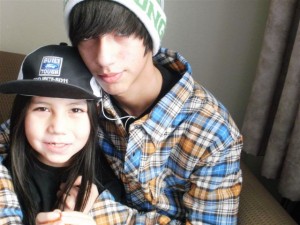 In Grassy Narrows we have children and youth that outnumber the adults in our total on       reserve population of 800. These children and youth are true survivors as they inherit the     legacy of a land devoured by consumerism – namely from the logging industry. This                 industry is also what dumped 9,000 kgs of mercury into the English Wabigoon river system effectively poisoning a water that is supposed to be life giving and is now life taking.
I will say to the readers that not all children in grassy narrows are disabled, but with each year, there are more children and youth born with health problems
The very sad part about all this, is with our continuous untiring effort to get justice there is nothing that will solve this loss of health and good life for these children and youth. We are at the front of the big mouth of consumerism and there is no humanity or compassion for these children and youth.
After many protests, Weyerhaeuser boycott, rallies, awareness pickets, information tours since 1975,  we are still in the legacy of our children and youth being poisoned.  The river is still flowing with its mercury laden sediment.   We watch as our children inherit illnesses labeled with diseases that they cannot treat effectively in hospitals.  We know it is because of mercury poisoning.
An example I will give is of a five year old child that cannot talk.  The many medical doctors that have seen and assessed her cannot figure out how she can be so smart and yet not form words.  She is not the only one with this mysterious ailment.  Speech therapy does not help these children
In closing, with this National Day of the Child, we seek justice for our children, grand children, and great grand children and we call on article 24 on the Convention on the Rights of the Child. 
The river needs to be cleaned up to stop this unlawful relentless poisoning of innocent Anishinabe children at Grassy Narrows