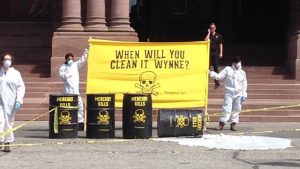 RELEASE                                                                              Thursday June 23, 2016
Queens Park shut down by Grassy Narrows supporters with chemical dump
Banner reads: When will you clean it Wynne?
Toronto – Today, Grassy Narrows First Nation dumped a barrel of a substance that appeared to be mercury in front of Queens Park – forming a shiny pool of slow flowing silver metallic liquid.  Queens Park security responded immediately and shut down the front entrance of the legislature, while teams for hazardous materials, a bomb squad, and dozens of police officers arrived shortly after and evacuated the entire front lawn.
Spilling two tablespoons of mercury triggers a mandatory evacuation according to the U.S. Environmental Protection Agency.  However, 9,000 kg of mercury have been left in Grassy Narrows' river for half a century while three generations of Grassy Narrows families have been diagnosed with the devastating symptoms of mercury poisoning. 
"Through 50 years of dumping, death, and disease in Grassy Narrows no one has ever been held accountable for the poisoning of Grassy Narrows families," said Syed Hussan with FreeGrassy.net from the scene of the action.  "Now within one hour protesters are being arrested for raising their voice to demand that Kathleen Wynne finally clean up Grassy Narrows' river once and for all.  How many more children will get sick while Wynne stalls and dodges?  Clean the river now."
Photos: https://www.dropbox.com/sh/ecgutundfelm3nb/AABnICeI1FitLVRPanrYyod0a?dl=0
Caption: FreeGrassy.net activists create a chemical dump at Queens Park front steps to call on Premier Wynne to clean up the mercury poison in Grassy Narrows' river. Allan Listener/FreeGrassy.net
—
Videos: https://www.dropbox.com/sh/gw7btprrrrfgel7/AACZn-4RcZzzwVVlO1dgi-z6a?dl=0
Caption: FreeGrassy.net activists create a chemical dump at Queens Park front steps to call on Premier Wynne to clean up the mercury poison in Grassy Narrows' river. Michael Toledano/FreeGrassy.net
See #FreeGrassy for real time updates.
This week the Toronto Star revealed that Ontario neglected for six months to act on a confession of a previously unknown massive toxic mercury dump by a former Dryden mill worker.  Ontario has yet to clean up, or even locate, the 50 barrels of salt and liquid mercury which Kas Glowaki reported burying in a dirt pit behind the mill in 1972.  If Glowaki's recollection is accurate, the buried mercury is enough to elevate mercury levels in the Wabigoon River below the mill by ten-fold for 90 years.
"Not one of us can sit idly by as mercury poisons even one more child in Grassy Narrows," said Syed Hussan on the steps of Queens Park, steps away from a pool of a shiny metallic chemicals.  "When will Wynne end this tragic abuse and clean up the river once and for all?"
Mercury is a potent neuro-toxin that hits children and fetuses the hardest, causing life-long harm to brain function, and impeding crucial development.
The illegal mercury dump reported by Glowaki is estimated to contain 60 litres of liquid mercury, which amounts to 1,000 kg.  Senior government officials had Glowaki's email for over six months but failed to act to ensure the safety of Grassy Narrows people who live downstream. Ontario officials admitted to the Toronto Star that they had not tested mercury levels in Wabigoon River water since 1980 – the one test that could confirm whether the old mill site is leaking mercury poison.    
An expert report released publicly on May 30th found that persistently high mercury levels in Wabigoon River sediments can be cleaned up and the fish can be made safe to eat again.  Premier Wynne's mercury working group has had the final report since April.
The report suggests that there is an ongoing source of mercury upstream which could be the old mill site. The ongoing source has prevented mercury levels from declining for the past three decades.  The report found that current monitoring at the old mill site is not sufficient to rule out the site as an ongoing source of mercury to the river. 
Grassy Narrows people, including children, continue to be diagnosed with the life-altering symptoms of mercury poisoning more than 50 years after the Dryden mill began dumping untreated mercury waste into the Wabigoon River. Fishing is a central part of Grassy Narrows' culture and has provided sustenance, livelihood, and meaning for countless generations of Grassy Narrows people. The collapse of fishing as a result of mercury poisoning has created massive unemployment in the community. Social services are underfunded and youth suicides are on the rise – a consequence generations of government and corporate injustice committed against this formerly self-sufficient and healthy Indigenous nation.
On June 2nd, over one thousand people rallied at Queens Park with Grassy Narrows in Toronto calling for an immediate commitment to clean up Grassy Narrows' highly contaminated river. 
Ontario initially flatly denied the need for a clean-up, but under intense pressure Wynne eventually said to the legislature that "[w]e are going to continue to work with the community to find a solution." Minister Murray went further saying to CBC that "[t]he case has been made and the evidence has been presented that it is time for remediation and a need for action, which I accept….The situation is really unacceptable and I am committed to acting quickly to resolve it."
However, neither Ontario nor Canada have committed clearly to cleaning up Grassy Narrows' river without delay.  Premier Wynne continues to deny that the river can be cleaned safely – something clearly contradicted by the expert reports.
Prominent people and organizations including David Suzuki, Margaret Atwood, Rachel McAdams, the Ontario Regional Chief, and Amnesty International have all backed Grassy Narrows' call for a clean-up.
Today's events are an independent action by grassroots Grassy Narrows supporters called FreeGrassy.net who are outraged by chronic government inaction on this humanitarian and environmental emergency.  The action is not affiliated with, or organized by, Grassy Narrows or any other organization.
CONTACT
#FreeGrassy