It is time for Canada to underpin its policies for environmental protection and climate change with up-to-date, solid science, not the pseudo-science fantasies of industries and bureaucratic policy wonks.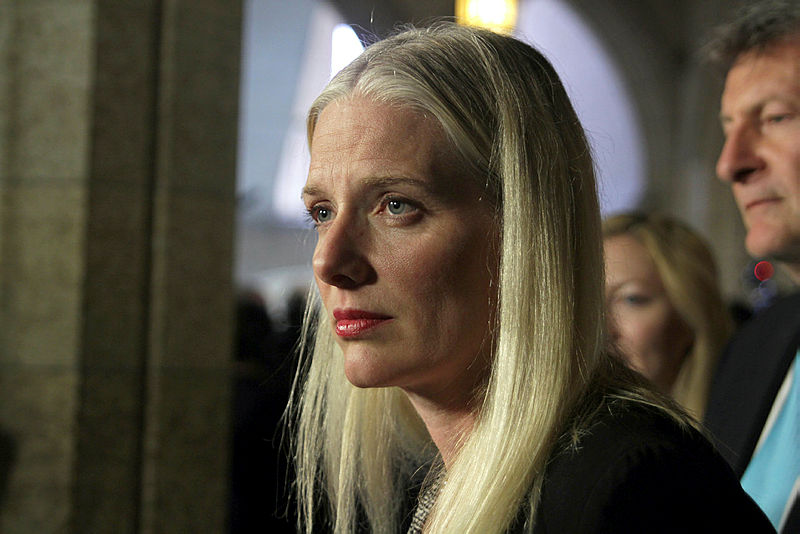 Canada's federal Environment Minister Catherine McKenna, pictured in this file photo on the Hill. The Hill Times photograph by Jake Wright
By DAVID SCHINDLER, DAVID SUZUKI
On April 7, Canada's Environment and Climate Change Minister Catherine McKenna signed the Minamata Convention, a global agreement to reduce human-caused mercury emissions. The accompanying news release failed to mention Canada's persistent Minamata disease problem in northwestern Ontario.
The convention is named for Minamata Bay, Japan, where the terrible neurological damage inflicted on people who are exposed to too much mercury was first documented. Infants and fetuses are especially vulnerable.
In northwestern Ontario, people from two Indigenous communities, Grassy Narrows and nearby Wabaseemoong (Whitedog) Independent Nations, suffer from Minamata Disease because a paper mill in Dryden, Ontario, discharged 10 tonnes of mercury waste into the Wabigoon River upstream from the communities between 1962 and 1970. Before the mercury problem, these communities had almost complete employment at area fishing lodges. The mercury contamination put the lodges out of business, leading to near total unemployment.
After the problem was discovered, the mill stopped using mercury. The Canadian Department of Fisheries and Oceans conducted studies that resulted in a plan during the 1980s to reduce the mercury, but it was quietly shelved, with the hope that time would eventually solve the problem. The mercury problem remains three generations later, and suffering from Minamata disease continues. Recent studies show [delete word show, add word "have"] HAVE found high mercury in fish and sediment, and 2014 studies by Japanese doctors show that more than 90 per cent of Grassy Narrows and Whitedog residents tested have signs of Minamata disease.
A group of independent scientists recently put forward a carefully crafted proposal for remediation. Ontario Premier Kathleen Wynne has publicly supported the plan, and the Ontario government has promised funding, but money for cleaning the river was conspicuously absent in the province's recent budget. Study results reveal that the old mill site is likely still leaking mercury into the river. The study proposes remediating the Wabigoon River and affected lakes in the traditional territories of the Grassy Narrows and Whitedog people using methods effectively used elsewhere. Canada's failure to address the problem is as old as the problem itself. Alarmingly, there is little sign that the federal government will provide funding or other assistance for river cleanup, even though there are ways to do it and the welfare of Indigenous people is a federal responsibility. We hope the government's commitment to the Minamata Treaty will result in it revisiting the Wabigoon River cleanup file.
If the Wabigoon River problems weren't enough, Canada's mid-century plans to reduce greenhouse gases could lead to many more cases of Minamata disease. All but the high nuclear option in Canada's greenhouse gas reduction plan require 100,000 or 130,000 megawatts of hydroelectric power to be in place by 2050. This is equivalent to building more than 100 hydro dams the size of Site C in British Columbia or Muskrat Falls in Newfoundland. All would impound rivers. Numerous Canadian scientific studies show that such impoundments cause a several-fold increase in mercury in fish—the result of high mercury release and accelerated transformation of the element to highly toxic and biomagnified methyl mercury in flooded soils and vegetation. Almost all the possible sites for such dams and reservoirs are on rivers where large Indigenous populations depend on fish.
Contrary to government statements, hydro reservoirs also emit significant amounts of greenhouse gases from decaying soils and vegetation, as has been documented in a number of Canadian scientific publications. The emissions from reservoirs may be lower than from fossil fuel power, but they can be highly variable and are site-dependent. For example, where large areas of wetlands are flooded, greenhouse gas emissions from reservoirs can be equivalent to burning coal. In short, hydroelectric power generates significant greenhouse gases that must be accounted for in Canada's national plan.
In 2015, Prime Minister Justin Trudeau told the CBC, "It is time for a renewed, nation-to-nation relationship with First Nations peoples, one that understands that the constitutionally guaranteed rights of First Nations in Canada are not an inconvenience but rather a sacred obligation." Lack of action on Wabigoon River and plans for multiple mercury-producing large hydro dams render that promise farcical.
It is time for Canada to underpin its policies for environmental protection and climate change with up-to-date, solid science, not the pseudo-science fantasies of industries and bureaucratic policy wonks. The tragic and embarrassing situation in northwestern Ontario is an example of the consequences of policy that not only ignores science but also the human damage that this ignorance fosters. The details of mercury poisoning were well known to scientists when mercury releases at Dryden were permitted, and the situation could have been prevented. The necessary remediation clearly should have begun decades ago, so let's get on with it.
David Schindler is the Killam Memorial professor of ecology emeritus at the University of Alberta. He was the founding director of the Experimental Lakes Project in northwestern Ontario, where many whole-lake experiments with mercury and greenhouse gases have been executed over the past 49 years. David Suzuki is a scientist, broadcaster, author and co-founder of the David Suzuki Foundation.