Despite the obstacles in their way, Grassy Narrows has consistently fought to regain their self determination, control their traditional territory, and revive their culture. Learn more about their amazing efforts.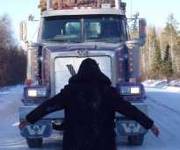 After more than a decade of letter-writing, meetings, protests, petitions, speaking tours, and legal efforts, youth from the Grassy Narrows community took matters into their own hands.
On December 2nd, 2002, the youth of the Grassy Narrows First Nation lay down in the path of industrial logging trucks blocking the main logging road through their territory, and sparking what is now the longest standing indigenous logging blockade in Canadian history.
Despite their efforts, Abitibi and Weyerhaeuser continued to log on the more remote sections of Grassy Narrows' territory, exploiting the fact that the community does not have the time or resources to blockade all the logging roads leading to their land. Wood from this area continues to feed Weyerhaeuser's Trus Joist/Timberstrand mill in Kenora, Ontario, Weyerhaeuser's Dryden, Ontario, paper mill, Weyerhaeuser's Ear Falls samill, and Abitibi pulp and paper mills.
But in the summer of 2008 Grassy Narrows and their supporters finally forced AbitibiBowater to give up their lisence o the Whiskey Jack Forest, and commit not to log in Grassy Narrows Territory without consent from the community. This halted all logging on Grassy Narrows Territory.
However, Weyerhaeuser continues to push to regain access to Grassy Narrows' wood, and refuses to commit to stay out unless the community gives their consent.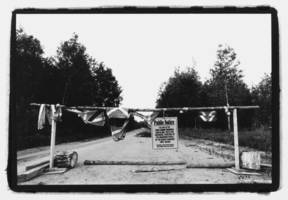 Direct action is a method of directly stopping objectionable practices or creating more favorable conditions by using immediately available means, such as striking, or blockading activities. It is different from indirect action which relies on tactics such as electing representatives who promise to provide remedy at some later date. Direct action is often a tool of oppressed people who don't have access to power through the standard channels. Oppressed people are often people that don't have the money or the education to access the discriminatory legal system, or the political clout and resources to affect change through the electoral process. Sometimes direct action is a tactical choice, sometimes it is a necessity and the only form or recourse available.
Given the attacks they have endured and the slow pace of more standard state-sanction means of social change (such as law suits), it is no surprise that the youth of Grassy Narrows engaged in direct action to protect their land.
On December 2, 2003, three young people set out to block the logging road and stop logging on their land. Their action spurred the support of the adults, and th eblockade has continued ever since.
Since that day, Grassy Narrows has consistently engaged in additional forms of action, including sporadically setting up human-blockades on additional roving logging roads in their territory, as well as protests outside Ministry of Natural Resources and Abitibi, and speaking tours across Ontario, educating people about the destruction that's taking place on their land and to their peoples.
As a result of their organizing, citizens in Winnipeg established a solidarity group, called "Friends of Grassy Narrows", which supports the Grassy Narrows' struggle for self-determination, and now dozens of grassroots groups and non-profit organizations have backed Grassy Narrows fight.
Grassy Narrows people are also taking direct action by reoccupying their land, reviving their cultural and spiritual practices and build traditional structures, such as log cabins, without the government's permission.
Learn more about Grassy Narrows' legal efforts to regain control over their land.
Grassy Narrows trappers have filed a lawsuit to regain control over their territory. Their lawsuit seeks to remove the authority of the Ontario Government, and specifically the Ministry of Natural Resources (the entity that manages logging on public land), to allow any activity – such as logging – that violates the community's right to hunt and fish unmolested.
The right to hunt and trap was recognized in Treaty 3, which they signed with the Canadian Government on October 3rd, 1873.
Aboriginal and Treaty rights are recognized and affirmed under section 25 of the Canadian Charter of Rights and Freedoms, and section 35(1) of the Constitution Act, 1982.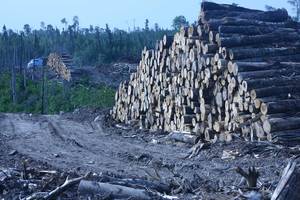 Clearcut logging of Grassy Narrows' Traditional Land-use Area degrades the land to the point that the community's ability to hunt and trap is impacted, as well as their ability to pass on their culture and methods of hunting and trapping to future generations.
A lawsuit filed by Grassy Narrows quantifies these infringements, asserting:
all clear cut operations are unsuitable for trapping for 15 to 45 years after logging,
a community cannot enter any area that contains active logging operations
the fragmentation of habitat as a result of logging impacts trapping in both logged and un-logged regions, and
the application of herbicides retards the growth of deciduous trees and thus reducing or eliminating large moose populations for seven to ten years.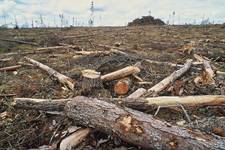 The lawsuit alleges a failure on the part of government and industry to consult and accommodate the interests of Grassy Narrows, including:
there was no consultation with the Plaintiffs or Grassy Narrows. When consultation did occur it was conducted without the genuine intention of ascertaining the Plaintiff's rights and interests and accommodating those rights and interests
that any consultation was conducted under circumstances where the Crown knew or ought to have known the Plaintiffs and Grassy Narrows did not have the means to meaningfully participate in consultation
the Crown unlawfully delegated its duty to consult to logging company, Abitibi
there was no compensation to the Plaintiffs, namely Grassy Narrows.
Grassy Narrows' court action seeks "A declaration that Sustainable Forest License 5442253, the 1999-2019 Forest Management Plan for the Whiskey Jack Forest Management Unit, and any work schedules or other approvals and authorizations of forest operations are void and of no force or effect."
The action further seeks an "order prohibiting the Ministry of Natural Resources from approving any forest licenses, forest management plans, work schedules or other approvals and authorizations of forest operations related to the Whiskey Jack forest Management Unit."