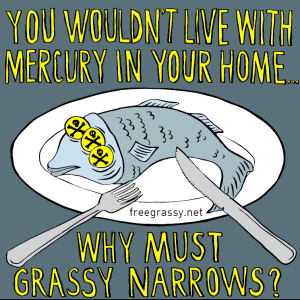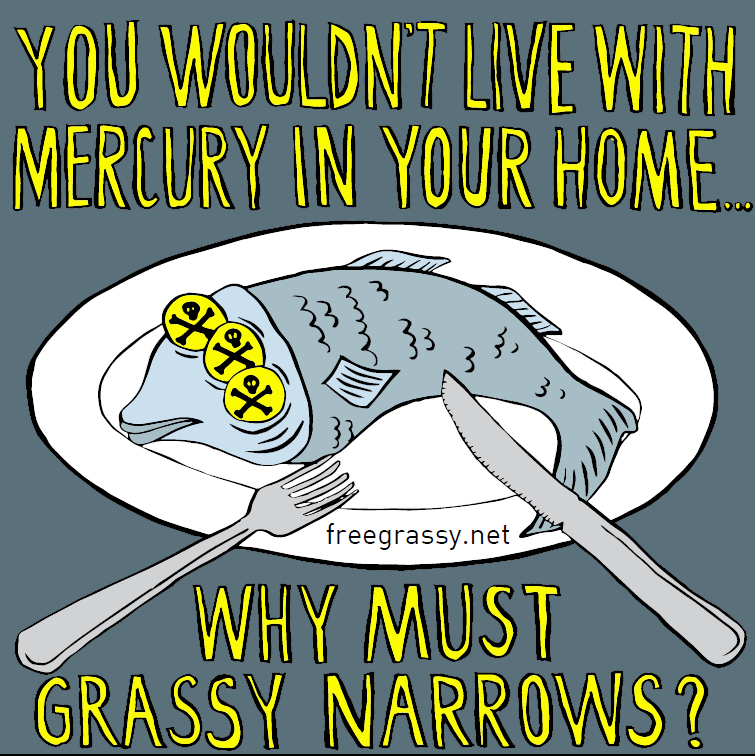 On Sunday August 25, 2013 Grassy Narrows supportes held a musical noise demonstration at premier Kathleen Wynne's home. The fun-filled, family friendly protest included an 80 person strong marching band and demanded an end to unwanted logging in Grassy Narrows and real action on mercury poisoning.
See photos from the Demo
Read media reports from the Demo
Take online action to support Grassy.
Read the press release
See APTN National TV news piece about the action
Mercury poisoning has left its terrible mark on three generations of Anishinaabe people – loss of balance, tremors, loss of vision, numbness, cerebral palsy, and more.
Last summer Wynne promised to do something about this tragedy. Over a year later there has been no improvement in the lives of Grassy Narrows people, only talk. Instead of helping the Province continues to plan for more clearcut logging in Grassy Narrows' watershed – a practice that further increases mercury poison levels in local fish.
No more delays, we need action now.
#nomercury #nologging #sovsummer #freegrassy
FreeGrassy.net
Can't make it, but still want to support? Click here for ideas!
In the 1970s Grassy Narrows discovered fish caught in the community had dangerous amounts of mercury that was being released in to the river from the Dryden paper mill upstream – then ownd by Reed Paper. Today the mill is owned by the New Domtar, a combination of Domtar and Weyerhaeuser's old paper division.
This revelation destroyed a basic food staple – fish – and a corner stone of the local economy. Overnight employment rates in the community went from 90% to 10%. The community was left to deal with the loss of their traditional economy, unemployment and a mysterious new ailment that was rampant among members of their community – mercury poisoning.
Read more here.
How is clear cutting linked to mercury poisoning?
Mercury from our coal power plants and incinerators rains down on the forest and is store in the soil. When the forest is logged the mercury is released and runs off into local lakes and rivers where it enters the food chain as poisonous methyl mercury. Fish can have 1 million times the mercury concentration of the water they swim in.
Read More here and here.

What are the community's demands?
Grassy Narrows, and their supporters, are demanding from government:
RESPONSIBILITY: Acknowledge mercury poisoning in Grassy Narrows, apologize, and accept responsibility to fix what was broken.
SAFETY: Fund a permanent Grassy Narrows run environmental health monitoring center. Strengthen the Health Canada mercury safety guideline to protect all people.
COMPENSATION: Compensate all people diagnosed by the Japanese doctors, and retroactively index the compensation to inflation.
RESTORATION: Clean and restore the English-Wabigoon river system. Stop the mills from polluting the water and air.
JUSTICE: Restore Grassy Narrows control over Grassy Narrows Territory. End destructive industrial logging on Grassy Narrows Territory.
Why protest at Wynne's home?
Mercury poison hits home every day for parents in Grassy Narrows when they struggle to feed their families, care for chronically sick children, deal with the loss of their own vision and coordination, or search for jobs where fishing once supported 90% of the community. They don't have the luxury of going home and forgetting about this burden.
Wynne the Premier has not improved the lives of people in Grassy Narrows, we are going to her home in the hopes that Wynne the mother will wake up this tragedy.
Want more information, click here.