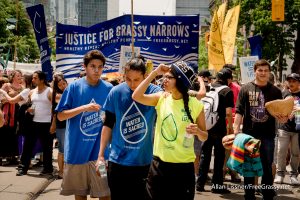 Government provides no evidence that recommended clean up would be risky. Minister recommended Grassy Narrows mercury clean up to cabinet in 1984. Scientists safely achieved ten-fold reduction in mercury in 1980s Wabigoon study.
Toronto – For months Premier Wynne has insisted that she strongly wants to clean up Grassy Narrows First Nation's mercury poisoned river, but repeatedly she has warned that a clean up could do harm by stirring up buried mercury.  On Monday, a Toronto Star investigation revealed that Wynne's repeated warnings of remediation risks are without basis in fact. 
When asked by the Star for evidence of the risks posed by the mercury clean up methods recommended by scientists for Grassy Narrows' river, the government did not provide "any scientific evidence cautioning against these methods".