var _gaq = _gaq || []; _gaq.push(['_setAccount', 'UA-16531805-1']); _gaq.push(['_trackPageview']);
(function() { var ga = document.createElement('script'); ga.type = 'text/javascript'; ga.async = true; ga.src = ('https:' == document.location.protocol ? 'https://ssl' : 'http://www') + '.google-analytics.com/ga.js'; var s = document.getElementsByTagName('script')[0]; s.parentNode.insertBefore(ga, s); })();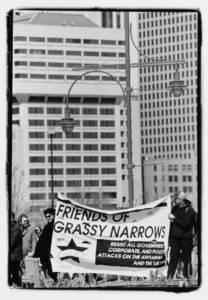 Get others involved in the Free Grassy campaign. Help implement a sustainable economy that protects endangered forests and indigenous rights.
Wood from Grassy Narrows' territory ends up in retail outlets in stores across North America. 70% goes to the United States. A unique way of life, a precious ecosystem and a community's future is logged, converted, shipped and sold as paper and wood products in retail outlets in your city.
Help free Grassy Narrows from this cycle of destruction by pressuring local retailers and builders that sell or useTrus Joist suppliers, to stop buying, selling or distributing products that are tarnished with ethical, environmental and social controversy.
Grassy Narrows' territory also covers most of land the Province calls the Whiskey Jack Forest Management Unit. Wood from the Whiskey Jack Forest Management Unit feeds the Weyerhaeuser Trust Joist iLevel Timberstrand LSL mill, and the Kenora Forest Products mills in Kenora. Trus Joist is a form of engineered lumber used to make wall framing, beams and headers. Trus Joist products are sold around the world. Weyerhaeuser is changing the name of Trus Joist to Timberstand, so please look out for both labels.
Check out our guide to identifying Trus Joist products from Grassy Narrows.
Moving a Company
Pressuring a company is easy and effective. It's a good idea to begin communicate your viewpoint to the manager of the store, via a letter or meeting.
Next, gather a few friends and organize a demonstration outside a store, talking to customers that frequent the store and asking them to sign a petition to stop buying wood and paper that's made using a process that destroys endangered forests and violates human rights.
Better yet, adopt a store selling Weyerhaeuser products and organize a series of once-a-week demonstrations. Numerous companies, including Office Max, Grand and Toy, Boise, and AbitibiBowater have promised not to use Grassy Narrows wood against the community's wishes after hundreds of people picketed outside their stores across the continent.
Contact us! We're here to help. Tell us whats going on and we'll get it up on the website!
We can't do this work alone. We hope you connect and work with allies across your region and across the globe.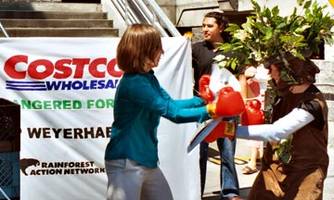 All the evidence you need to convince others to get involved in the Free Grassy Narrows campaign.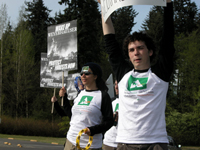 Pass a "Good Wood Policy" at your school, business or city. Keep products that come directly from endangered forests and contested indigenous land away from your community.
This policy endorses LEED green building standards and preferences local suppliers that abide by Forest Stewardship Council certification, an independent group that certifies forests that meet basic environmental, labor and indigenous rights standards.
They are far from perfect standards, but they are better than other National level standards we know of. By advocating for this policy you can build great coalitions with unique constituencies, including those advocating for community revitalization, alternative technologies, green building community, human rights and indigenous solidarity activists, and environmentalists.